Melanie C sings at the German Sustainability Award – On 22.11.19 Melanie C will perform at the German Sustainability Award in Düsseldorf. The singer of the Spice Girls who became famous as Sporty Spice has promised her support for the German Sustainability Award after having stood up for the rights of the LGBT scene at the worldwide Pride Events.
One week after her sold out Reunion Stadium Tour of the Spice Girls in the UK and Ireland (around 700,000 tickets sold) Melanie C fought for the rights of lesbian, gay, bisexual and transsexual people at Pride events around the world.
Strong performance at the Pride Event Sao Paulo
In Sao Paulo alone, hundreds of thousands of people marched through the Brazilian metropolis of Sao Paulo during the Gay Pride Parade, protesting against right-wing populist President Jair Bolonaro. Brazil's extreme right-wing President Bolsonaro has repeatedly made derogatory remarks about homosexuals. He once said that he prefers to lose his son in a traffic accident than to have a gay son."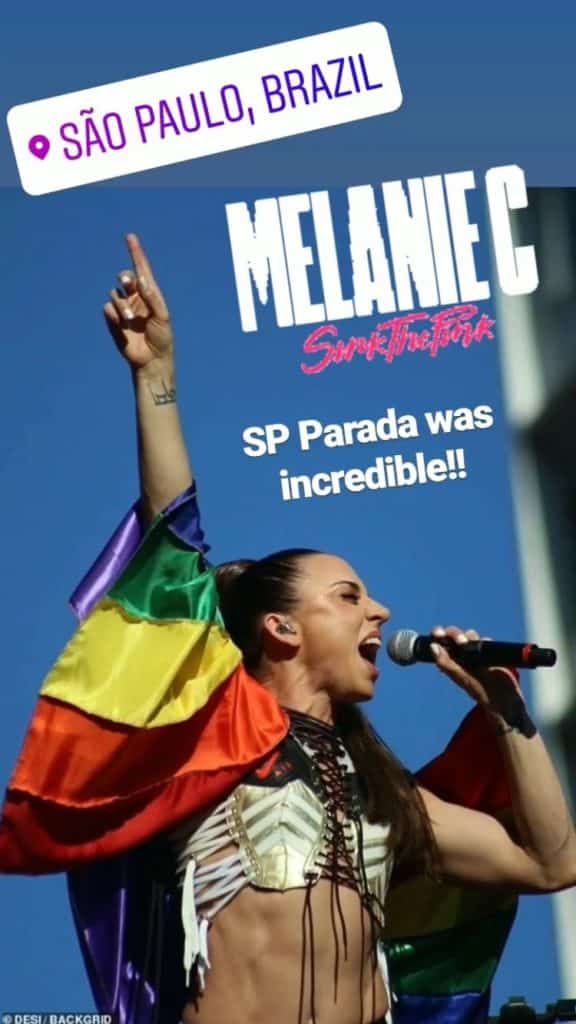 Stefan Lohmann wins Melanie C German Sustainability Award
"I am personally very happy about the commitment and support of Melanie C. Look at her (picture above Sao Paulo ) – for me she is a courageous fighter for sustainability who uses her voice and worldwide fame to stand up for the rights of minorities. With her courage and fighting spirit and her clear statements, Melanie C is an icon and symbolic figure for millions of people. As a member of the Spice Girls – the world's most famous girl group – she has had a huge impact on millions of fans around the world for decades. To this day – as you can see from the Instagram reaction of Billie Eilish," says Stefan Lohmann, Artist Relations Manager responsible for the international stars and the live entertainment concept at the German Sustainability Award.
Melanie Chisholm on her participation in the German Sustainability Award
"We only have one planet and we need to start looking after it! Everyone has an obligation to make more effort to help, but big businesses and governments can make a huge difference with the laws they make and the products they produce. They, along with all of us, must take responsibility for the future of our planet." – Melanie C
"Mel C is an activist for LGBT," says Schulze-Hausmann – initiator of the German Sustainability Award. LGBT stands for "Lesbian, Gay, Bisexual and Transgender". "She has been pursuing this sustainability issue for a long time.
Other international star guests:
In 2019 Simply Red and Melanie C from the Spice Girls will perform at the sustainability award on 22.11.2019. In the years before star guests were among others following: Annie Lennox, Jamie Cullum, Scorpions, Cat Stevens/Yusuf, Nelly Furtado, Anastacia, Katie Melua, Angelique Kidjo, Art Garfunkel, Die Fantastischen 4, Max Giesinger, Andreas Bourani, Frieda Gold, MIA, Jan Delay, Marius Müller Westernhagen, Rea Garvey, Robin Gibb, Marlon Roudette, Ute Lemper, Roachford…
Stefan Schulze-Hausmann on the cooperation with Artist Relations Manager Stefan Lohmann
"There is no agent in Germany who has understood our subject so well," says initiator Stefan Schulze-Hausmann. "It's all about getting artists who are really interested in sustainability to perform with us. But the artists' interest is not enough. It takes a lot of skill and professionalism to put together the whole package behind the visit of a national and international star".
Mel C – new Single High Heels
Now Melanie's new track High Heels celebrates her summer-long collaboration with one of London's leading LGBTQ clubs. Sink the Pink, the LGBTQ drag collective – after completing the breathless, joyous Spice Girls reunion tour, Melanie joined Sink the Pink to play New York, São Paulo, Amsterdam and Stockholm.
Melanie C feat. Sink the Pink
Melanie C's show Sink The Pink, known for their outrageous outfits, drag shows, and dedication to pop smashes, took in places like Sao Paolo, Amsterdam, Stockholm, Dublin, and cities in the UK including Bristol, Belfast and Brighton. The Spice Girl has long been an LGBTQ icon, and she says she was inspired by Sink The Pink's warmth and inclusivity. "It was a place where anyone could be themselves, whomever they were, while feeling completely relaxed about being so," says Mel. 
About Melanie C
About the German Sustainability Award
Melanie C sings at the German Sustainability Award
The German Sustainability Award is the national award for outstanding achievements in sustainability in business, municipalities and research. With eight competitions (including the Next Economy Award for "green founders"), over 800 applicants and 2,000 guests at the events, the prize is the largest of its kind in Europe. The award is presented by the Stiftung Deutscher Nachhaltigkeitspreis e.V. in cooperation with the German federal government, local umbrella organisations, business associations, civil society organisations and research institutions. The German Sustainability Day in Düsseldorf, the most frequently visited annual communication platform on sustainable development, is the setting for the award ceremony.
Read more: http://www.nachhaltigkeitspreis.de
---
About Stefan Lohmann (international Artist Relations)
Stefan Lohmann is a Hamburg-based Talent Buyer and Artist Relations Manager. His service portfolio includes the placement of artists as well as the creation of comprehensive live entertainment concepts for concerts, festivals and events. With his live entertainment network of artists and creative people, he also represents market-leading show productions in the entertainment field of aerial shows, drone shows, video projection mapping, dance shows … "We create for our customers what is not available on the market," says Stefan Lohmann about his company philosophy.
Music Concepts
The creation of music concepts together with the customer is one of the specialities of the live entertainment expert Stefan Lohmann. With Sustainable Event Solutions he also offers support for climate-neutral, sustainable events and tours.
"As Artist Relations Management & Live Entertainment Network, I offer a transparent and efficient solution to channel and professionalize live entertainment handling while reducing costs and increasing artist selection." – Stefan Lohmann
"We place international Stars, Shows, Orchestra, Celebrity Speakers, Hosts, Performer …. and create Live Entertainment Concepts with WOW-factor"
Contact: mobile +49 171 1662517 info@stefanlohmann.de www.stefanlohmann.com www.sustainable-event-solutions.de