Female Power Drumming Show – drum show booking
drum show booking: Misses Toms always cause a stir with their LED drum show – whether as a laser drum show act at the Famab Award, the Live Entertainment Award or at company events and even in the boxing ring. Misses Toms also provide the beats at the Berlin Show Orchestra with her feminine power percussion show.
The two top drummers from Berlin showcase female power drumming, futuristic style and modern beats in a custom-made LED drum cage made of steel.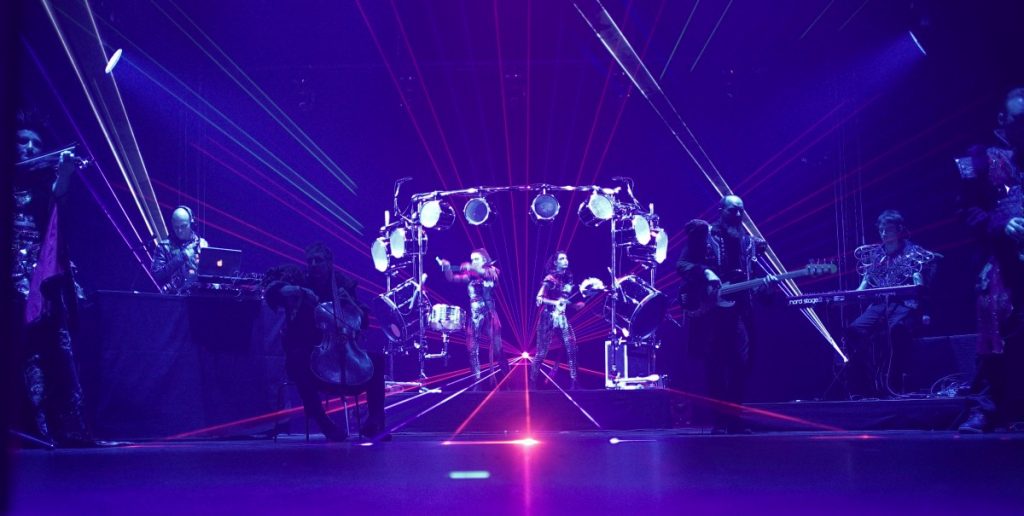 Drummers and female drummers: State-of-the-art show technology illuminates the drum show with LED light in RGB. Whether as a show highlight or as a motivation and incentive possibility – Misses Toms inspire every audience.
Misses Toms offer interaction with the audience and visual highlights even within a multimedia show – the production team of Misses Toms offers extensive possibilities to create an individual show for your event.
In a drum cage equipped with powerful drums, which was designed especially for this show, Misses Toms slowly start to increase the speed of the show and show how you can rise above yourself and break your own chains.
Feminine power, futuristic style and modern beats at breakneck speed let Misses Toms interact with your audience in a refreshingly new way and make every event an experience.
In a possible fusion with other musicians (Violinshow, Gitarrenshow…) and dancers, every event gets its personal touch by star choreographer Nicole Wiese and every product presentation its own unique style.
The show act Misses Toms is constantly being developed further. The latest show works with LED technology and drum triggers. This makes it possible not only to make the drums glow, but to influence the whole light show by the drum beats. Whether light, pyrotechnics, laser show, LED walls – in principle everything can be triggered and controlled with the drums. Even table mapping can be controlled with it.
Misses Toms can also be booked as an aerial show act with up to 6 drummers. Misses Toms are pulled in dizzying heights and fly through the air.
more articles
Berlin Show Orchestra, Misses Toms, Angelstrings, Martin Mall, Kate Ryan beim Famab Award
Max Giesinger Open Air Sold Out
Links: