AIDA Show Ensemble Booking and Artist Information
Creating together what stays in memory
AIDA Show Ensemble booking and artist information
Artists of the AIDA Show Ensemble from all parts of the world entertain each evening on the AIDA ships. Experienced musical performers take you into magical worlds and enchant you with live singing and dance shows, which work even when the sea sometimes makes higher waves. Both in the big shows in the theatre or theatrium, as well as in the small circle as solo interludes in the later evening.
Artist Relations Manager Stefan Lohmann cooperates with the AIDA Show Ensemble
With its AIDA Show Ensembles, AIDA is one of the largest providers of show entertainment at sea. As a result of the cooperation with Stefan Lohmann, the AIDA Stars can now also be booked for company events or tour productions.
Acrobats, Showacts, Dancers, Aerial Acts
Our breathtaking artists let you forget the laws of gravity when they magically fly through space on trapezes, swirl weightlessly through the air on fine sheets or amaze you with artistic interludes of boundless movability.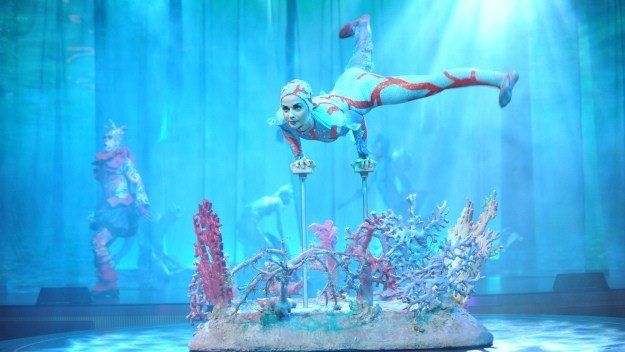 Much of what inspires on stage is created behind the scenes by a creative team that includes production managers, artistic directors, choreographers, directors, costume designers, stage designers, composers, screenwriters and music producers, as well as lighting and sound designers.
Together they create what you remember from AIDA Entertainment:
The moments between goosebumps, fascination and enthusiasm.
Show programs:
"AIDA Stars – Shine": In this emotional show you get to know all artists, soloists, dancers and artists.
"Show me! YELLO!": The audiovisual show experience combines the electropop and video art of the best-known music duo YELLO with fireworks of dance, acrobatics and extravagant staging.
"Nashville – just good music": The greatest hits of Rock'n'Roll. A fantastic band, the best singers – your exclusive live concert show experience.
"Avona Dia": An magical family show with complex costume and stage design and an imaginative choreography, backed among other things by a star of Cirque du Soleil.
"Steampunk Circus": In this show experience for the whole family, the entire ensemble takes the audience on a journey into a mysterious and magical world between past and future.
"The Voice the Ocean": Rotating chairs, charismatic coaches and lots of fantastic voices.
"AIDA♥LOVE": Every journey is different and special, just like this experience show.
New Music- & Artistic-Shows: "Augenblick" and "Musical Dreams"
Pure Power: "Rock the Concert"
Remakes of the most popular AIDA formats: "I want it all" and "Can you feel it"

Breathtaking Shows: "Gimme Gimme Gimme – ABBA reloaded" or "Ich find Schlager toll"

Kids & Teens Show: "BOOM!"
Aida Show Ensemble Booking:
Stefan Lohmann (artist agency, artist booking)
Stefan Lohmann is a Hamburg-based Talent Buyer and Artist Relations Manager. His service portfolio includes live entertainment concepts for concerts, festivals and events. As a live entertainment network, he also represents market-leading production companies in the entertainment sector (aerial shows, drone shows, video projection mapping …).
With Sustainable Event Solutions he also offers support for climate-neutral, sustainable events and tours.
Contact:
Phone: 01711662517
info@stefanlohmann.de
www.stefanlohmann.com
www.sustainable-event-solutions.de
About Stefan Lohmann – Talent Buyer & Booking Agent:
As Artist Relations Management & Live Entertainment Network we offer a transparent and efficient solution to channel and professionalize live entertainment handling while reducing costs and increasing artist selection.
We place international Stars, Shows, Orchestra, Celebrity Speakers, Hosts, Performer … and create Live Entertainment Concepts with WOW-factor.