Vocal Coach Alexandra Pengler
A powerful voice for keynote speaker, women and men in leadership positions
Vocal Coach Alexandra Pengler has been travelling around the world as a singer and vocal coach for years, meeting a very diverse clientele. She knows from her own experience that as a keynote speaker, for example, you need a powerful and pleasant voice to really convince an audience and assert yourself.
Using your voice consciously and constantly improving it
Vocal Coach Alexandra Pengler shows you how to find and optimize your own voice through practical and easy to implement exercises. Keynote speaker, management or department heads of companies who want to lead and inspire teams can quickly achieve success and consciously use and constantly improve their voice.
The value of an expressive and powerful voice
Whether as a professional keynote speaker or as a team leader in front of employees – presentations and free speech are part of everyday business life. The value of an expressive and healthy voice cannot be overestimated. And that's exactly why it should be trained and strengthened regularly.
People with an expressive voice are noticed
New studies show that managers and politicians with a powerful and expressive voice are more successful and achieve significantly higher incomes. People with an expressive voice are perceived as more competent, stronger and more trustworthy. This sounds like a good argument for voice training if you want to be successful in business and politics.
SINGING MAKES YOU HAPPY AND HEALTHY!
In addition to VOCALCOACHING for women and men in management positions, Alexandra Pengler offers companies individually designed workshops, incentives and sing along concerts. Here is a small selection of possibilities.
EDUCATION AND TRAINING OF A COMPANY CHOIR WITH STAR GUEST
The advantages of an employee choir lie not only in the increased employee satisfaction and loyalty to the company, but it also trains how to listen to one another. Singing together promotes positive interaction, solves conflicts and welds together – across generations.
The whole thing can be increased even more if performances, e.g. for the next company party, are planned with the company choir. Depending on the budget, it is possible to invite a star guest whose songs have been rehearsed beforehand. Just like in this video.
No other type of event has such a connection to a star guest of the evening. The intensive singing together with a star guest becomes an unforgettable experience for your company!
At a workshop, e.g. with those in the company who regularly represent the company as speakers / keynote speakers or lead teams, Vocal Coach Alexandra Pengler can give valuable tips to the participants. Already on the spot Alexandra Pengler can show you how to make fast progress and how to consciously use and improve your voice.
EVERYBODY CAN SING – THE SING-ALONG CONCERT
Singing along concerts create a great atmosphere and the videos can also be used for content marketing. The lyrics for singing along are projected on large screens. The songs are generally known, and depending on the time and abilities of the audience, it is even possible to sing in several voices.
The concept includes the joy of the audience with each other and the cheering after each song. It's about having fun. Everyone can sing along, because the lyrics can be seen clearly on stage.
Small choreographies can also be rehearsed. If this event is filmed and the enthusiasm of the participants is conveyed, many emotions come across. This can also increase the engagement on your social media channels.
TRAINING STYLE – Emphatic, familiar and personal!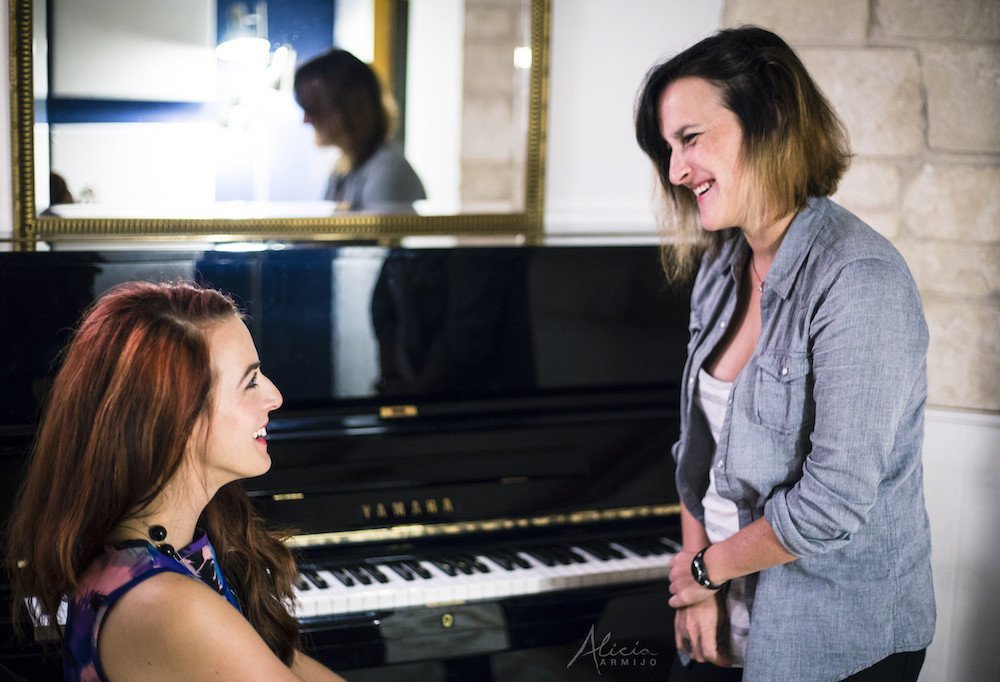 I encourage my students in their abilities and support them in believing in themselves and trusting their voice.
Every human voice is different and has different needs. Does the voice sound too breathy, too thin, too pressed or heavy? My priority is to give my students a stable speaking and singing voice. My teaching is based on the logic of physiological, acoustic and aerodynamic laws. My students appreciate my warmth and my sense of humour, which are on board from the very beginning and contribute to relaxation.
EMERGENCY HELP AND WORLDWIDE ONLINE-VOCAL-COACHING
I provide my students with tools that help them find the right balance for their voices. And: I offer emergency solutions for situations directly before a performance or a recording session – directly in the studio, behind the stage or even via Skype when I can't be there.
About Vocal Coach Alexandra Pengler:
After my high school graduation, I completed a three-year training at the "Berufsfachschule für Rock- und Popularmusik" in Bavaria as a state-approved director of popular music. My main subject: rock, pop and jazz singing. Among my lecturers and mentors was Udo Dahmen, who later founded the "Popakademie" in Mannheim. At the "Hochschule für Musik und Theater" in Hamburg I successfully participated in the "Kontaktstudiengang für Popularmusik". During this time I worked closely with Jane Comerford of "Texas Lightening" and Karin Ploog.
I continue to educate myself – in the USA and in Europe – and combine my knowledge with my yoga experience and other relaxation techniques. Since 2013 I have been one of the teachers at the Institute for Vocal Advancement (IVA), which has its headquarters in the USA. It is an international network of singing teachers that teaches singers and offers further education and training. The singing teachers of IVA work together with internationally successful bands such as "The Killers", "Imagine Dragons", "Panic! at the Disco" and over 30 Broadway stars, as well as for the ProSieben show "The Voice".
Keynote Speaker & Vocal Coach Alexandra Pengler is European Coordinator of the Institute for Vocal Advancement
My work for "Institute for Vocal Advancement" is very versatile: As "Regional Area Coordinator" for Europe and "Area Representative" for Scandinavia I am involved in the coordination of the activities of IVA in these countries.
PRIVATE LIFE
I dedicate my free time to my family and friends. My interests include yoga, travelling, wine, food, nature and my cats. Currently I live and work mainly in Germany, Denmark and Sweden.
Vocal Coach Alexandra Pengler Management
Booking Kontakt:
Stefan Lohmann (Artist Relations. Booking Agency)
Stefan Lohmann is a Hamburg-based Talent Buyer and Artist Relations Manager. His service portfolio includes live entertainment concepts for concerts, festivals and events. As a live entertainment network, he also represents market-leading production companies in the entertainment sector (aerial shows, drone shows, video projection mapping …).
With Sustainable Event Solutions he also offers support for climate-neutral, sustainable events and tours.
Contact:
Phone: 01711662517
info@stefanlohmann.de
www.stefanlohmann.com
www.sustainable-event-solutions.de