Tony Hadley is one of the most famous pop singers and one of the pioneers of the NEW-ROMANTIC movement from the 80s. Longing, romance and strong emotions – hardly any other band was able to express these moments as well as the British pop formation Spandau Ballet. Their great hit singles of the eighties like "True" or "Gold" have become timeless classics of pop music. 
Tony Hadley – from school band singer to Spandau Ballet world band
Tony Hadley was born on 2 June 1960 in Islington. He went to the same school as his future band colleagues Gary Kemp, John Keeble, Steve Norman, Richard Miller and Martin Kemp. In 1978 they founded the Maker. Hadley became the lead singer of this group. When bassist Richard Miller left, he was replaced by Martin Kemp. In 1979 the makers were renamed Spandau Ballet. Tony Hadley achieved great success with Spandau Ballet in the 1980s with hits such as To Cut A Long Story Short (1980), Chant No.1 (I Don't Need This Pressure On) (1981), True (1983), Only When You Leave (1984) and Through The Barricades (1986). The band was together until 1990, when individual members embarked on acting careers and other musical directions. In 1992, Tony Hadley signed a solo contract, but unfortunately could never build on the success he had achieved with Spandau in the 1980s. In 1999 Tony, John Keeble and Steve Norman lost a £1,000,000,000 royalty dispute against Gary Kemp. For many years Tony didn't talk to Gary, but in 2008 they settled their differences, and then, in 2009, Spandau Ballet finally reformed and went on a world tour.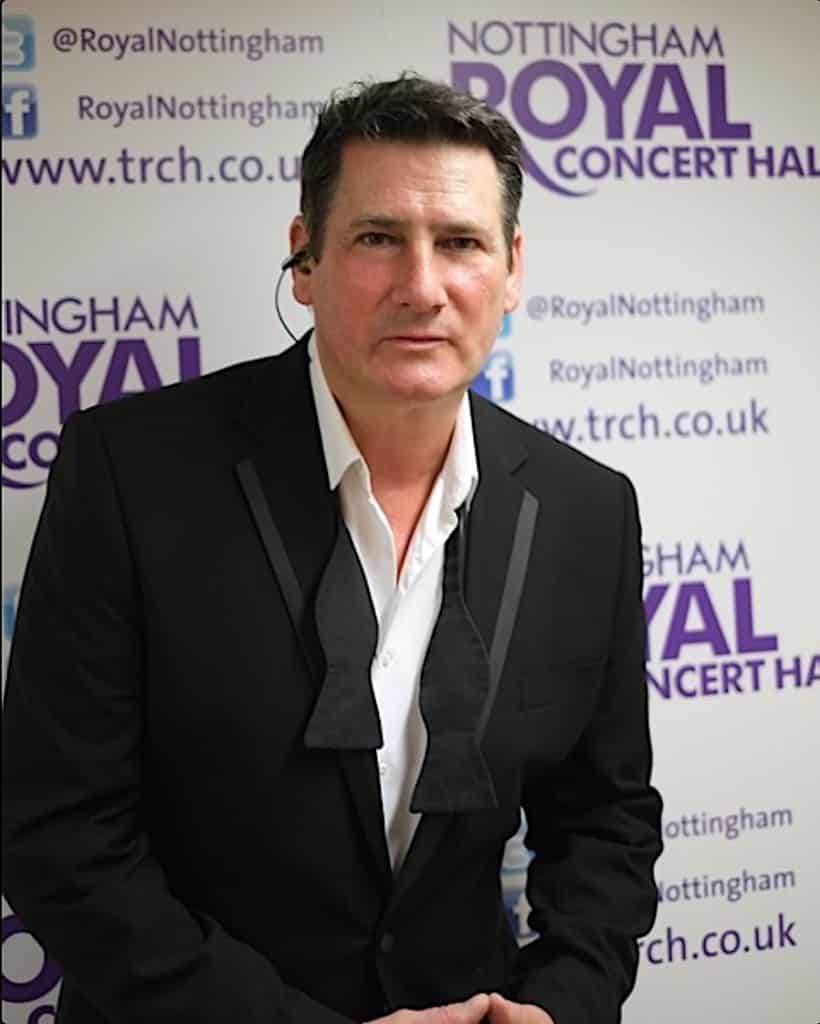 Tony Hadley at Spandau Ballet – Beginnings and Great Successes of the 80s
The origins of Spandau Ballet go back to the seventies. When the band formed around singer Tony Hadley in 1976 in Great Britain, a new wave of music started from the music club "Blitz" in the cultural capital London, which was soon to spread all over Europe and carried the name "New Romantic". It is regarded as one of the formative youth cultures of the 80s, to which globally successful bands such as Duran Duran, Ultravox and Visage belonged. All these formations created a soft, slightly dreamy pop sound that contrasted with harder styles like punk or metal.
The band has been extremely successful since its inception, selling a total of 25 million albums worldwide. The original line-up included Tony Hadley (vocals), brothers Gary and Martin Kemp (guitar, bass), Steve Norman (saxophone, percussion) and John Keeble (drums). Their debut single, released in 1980, was still influenced by late punk and reached the top 10 of the British charts. Their first two albums Journeys to Glory (1981) and Diamond (1982) as well as the resulting singles were also able to establish themselves high up in the UK charts. They gradually crystallized the typical sound of Spandau Ballet: a warm, soulful pop sound with refined soul elements, carried by the pleasant voice of Tony Hadley.
The big international breakthrough came in 1983 with the third album True. The singles True and Gold became world successes, which still fascinate us today. The success series continued with the 1984 album Parade. Also with the single Through the Barricades from the album of the same name from 1986 the band could book an international hit.
Tony Hadley – unmistakable voice until today 
Romanticism is the keyword that best describes the musical style of Spandau Ballet to this day: Tony's soft voice, a dreamy, harmonious sound with saxophone, warm string carpets and piano passages. The outward appearance of the band also matched this at the time: Their serious suits, ties and well-groomed hairstyles differed clearly from the outfits of many other musicians of that time. There was no provocation or protest here, but an emotional inward turn was favoured. And just this romantic inwardness was well received by the audience and manifested itself in growing success.
Tony Hadley and Spandau Ballet – Temporary Dissolution and Reformation 
The album Heart Like a Sky, released in 1989, couldn't continue the earlier successes. At the beginning of the nineties the band disbanded. Since then Tony Hadley has been working on his solo career, the other members also pursued their own projects. But this was by no means the end of Spandau Ballet: in 2009 the founding members re-formed and gave their first concerts. In the same year the album Once More was released, which contains new recordings of many old world successes and two new songs. The band is still on tour worldwide. Since 2017 Tony Hadley is officially no longer a member of the band Spandau Ballet. In March 2019 he presented his latest album Talking to the Moon in Germany. In 2020 he tours Australia.
Booking made easy – How we can help you
Are you looking for a world star for your event? Write to us, we look forward to a non-binding contact.
---
Stefan Lohmann (Artist Booking)
Stefan Lohmann is a Hamburg-based Talent Buyer and Artist Relations Manager. His service portfolio includes the placement of artists as well as the creation of comprehensive live entertainment concepts for concerts, festivals and events. With his live entertainment network of artists and creative people, he also represents market-leading show productions in the entertainment field of aerial shows, drone shows, video projection mapping, dance shows … "We create for our customers what is not available on the market," says Stefan Lohmann about his company philosophy.
Tony Hadley booking and artist information:
A world star for your event
The creation of music concepts together with the customer is one of the specialties of the live entertainment expert Stefan Lohmann. With Sustainable Event Solutions he also offers support for climate-neutral, sustainable events and tours.
Contact: +49 171 1662517 info@stefanlohmann.de www.stefanlohmann.com www.sustainable-event-solutions.de
Stefan Lohmann – Talent Buyer & Booking Agent
"As Artist Relations Management & Live Entertainment Network, I offer a transparent and efficient solution to channel and professionalize live entertainment handling while reducing costs and increasing artist selection."
"We place international Stars, Shows, Orchestra, Celebrity Speakers, Hosts, Performer …. and create Live Entertainment Concepts with WOW-factor"