AIDA Show Ensemble Booking- und Künstlerinformation
Zusammen erschaffen, was in Erinnerung bleibt
AIDA Show Ensemble Booking- und Künstlerinformation
Künstler vom AIDA Show Ensemble aus allen Teilen der Welt begeistern jeden Abend auf den AIDA Schiffen. Erfahrene Musicaldarsteller entführen Sie in magische Welten und verzaubern Sie mit Live-Gesang und Tanzshows, die auch sitzen wenn das Meer mal etwas höhere Wellen schlägt. Sowohl in den großen Shows im Theater oder Theatrium, als auch im kleinen Kreis als Soloeinlagen am späteren Abend.
Artist Relations Manager Stefan Lohmann kooperiert mit dem AIDA Show Ensemble
AIDA gehört mit seinen AIDA Show Ensembles zu den größten Anbietern von Show Entertainment auf See. Dank der Kooperation mit Stefan Lohmann können die AIDA Stars nun auch für Firmenevents oder Tourproduktionen gebucht werden.
Akrobaten, Showacts, Tänzer, Aerial Acts
Unsere atemberaubenden Artisten lassen die Gesetze der Schwerkraft vergessen, wenn sie an Trapezen magisch durch den Raum schweben, an feinen Tüchern schwerelos durch die Luft wirbeln oder Sie durch artistische Einlagen von grenzenloser Beweglichkeit ins Staunen versetzen.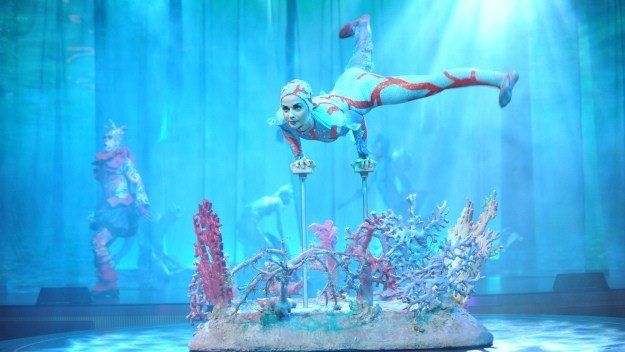 Vieles von dem, was auf der Bühne begeistert, entsteht hinter den Kulissen durch ein Kreativ-Team, zusammengesetzt aus Produktionsleitung, Künstlerischer Leitung, Choreografen, Regisseuren, Kostümdesignern, Bühnenbild-Designern, Komponisten, Drehbuchautoren und Musikproduzenten, sowie Licht- und Tondesignern.
Zusammen erschaffen sie das, was Sie vom AIDA Entertainment in Erinnerung behalten:
Die Momente zwischen Gänsehaut, Faszination und Begeisterung.
Showprogramme:
"AIDA Stars – Shine": In dieser emotionalen Show lernen Sie alle Künstler, Solisten, Tänzer und Artisten kennen.
"Show me! YELLO!": Das audiovisuelle Show-Erlebnis verbindet den Elektropop und die Videokunst des weltbekannten Musikduos YELLO mit einem Feuerwerk aus Tanz, Akrobatik und extravaganter Inszenierung.
"Nashville – just good music": Die größten Hits des Rock'n'Roll. Eine fantastische Band, die besten Sänger – Ihr exklusives Live-Konzert-Showerlebnis.
"Avona Dia": Eine zauberhafte Familienshow mit aufwendigem Kostüm- und Bühnenbild und einer phantasievollen Choreografie, hinter der unter anderem ein Star des Cirque du Soleil steht.
"Steampunk Circus": In diesem Show-Erlebnis für die ganze Familie nimmt das gesamte Ensemble die Zuschauer mit auf eine Reise in eine geheimnisvolle und zauberhafte Welt zwischen Vergangenheit und Zukunft.
"The Voice the Ocean": Drehbare Stühle, charismatische Coaches und jede Menge fantastische Stimmen.
"AIDA♥LOVE": Jede Reise ist anders und besonders, genauso wie diese Erlebnisshow.
Neue Musik- & Artistik-Shows: "Augenblick" und "Musical Dreams"
Pure Power: "Rock the Concert"
Remakes der beliebtesten AIDA Formate: "I want it all", "Can you feel it"

Mitreißenden Shows: "Ich find Schlager toll" oder "Gimme Gimme Gimme – ABBA reloaded"

Kids & Teens Show: "BOOM!"
Aida Show Ensemble Booking:
Stefan Lohmann (Künstleragentur, Künstler Booking)
Stefan Lohmann ist ein Hamburger Talent Buyer und Artist Relations Manager. Zu seinem Leistungsportfolio gehören Live Entertainment Konzepte für Konzerte, Festivals und Events. Als Live Entertainment Network vertritt er zudem marktführende Produktionsfirmen im Entertainment Bereich (Aerial Show, Drohnen Shows, Video Projection Mapping …)
Mit Sustainable Event Solutions bietet er zudem Unterstützung für klimaneutrale, nachhaltig ausgerichtete Veranstaltungen und Tourneen.
Kontakt:
Tel: 01711662517
info@stefanlohmann.de
www.stefanlohmann.com
www.sustainable-event-solutions.de
Über Stefan Lohmann – Talent Buyer & Booking Agent:
Als Artist Relations Management & Live Entertainment Network bieten wir eine transparente und effiziente Lösung, um das Live Entertainment Handling zu kanalisieren und zu professionalisieren, bei gleichzeitiger Kostensenkung und größerer Künstlerauswahl.
We place international Stars, Shows, Orchestra, Celebrity Speakers, Hosts, Performer … and create Live Entertainment Concepts with WOW-factor.