80er Hits mit Kate Ryan – Zeitreise
The creative Kate Ryan is not any kind of standard singer, she shines as a career artist not only with music from the 90s and 2000s, but also from the 80s. "I was born in 1980 and the music of those years has always attracted me."
2019 – Kate Ryan inspires with songs from the 80s
In 2018 Kate Ryan began her new European tour in Germany with 13 performances, including a crossing to Ibiza and the Antwerp Pride. In November Kate was still on stage in Oslo, Norway, and then she concentrated on the preparations for the "80 Was Machtig" concert (80s were mighty concert), which started on February 16, 2019 in the Kursaal of Ostend.
Program of the 80s Show with Kate Ryan
Kate Ryan sorgt seit vielen Jahren für große Chart Hits. Mit Ihren neuen Versionen von 80er Hits wie Ella Elle L'a (France Gall) oder Voyage Voyage (Desireless) stürmte sie die starts und sorgt für über 25 Millionen klicks pro video. Das Programm der 80er Hits mit Kate Ryan sorgte nicht nur für Begeisterung bei den Fans, sondern auch bei den Veranstaltern. Sie bezeichnen ihre Auftritte regelmäßig als einen der Besten, den sie je hatten. Mit ihrer "80 Was Machtig" Tour beweist Kate Ryan, dass sie nicht nur eine großartige Performerin und Geschichtenerzählerin ist, sondern auch, dass sie und ihre Band die beste Musik der 80er Jahre live zum Leben erwecken können.
About Kate Ryan and her greatest achievements
Since Kate Ryan released the cover version of "Désenchantée" in 2002, she has suddenly become one of the most sought-after music artists in her home country Belgium. With the album "Different" she made her international breakthrough in 2003. To date, Kate Ryan has been particularly successful in her home country with around nine top 10 singles (out of a total of fourteen released there), including two number one singles and five precious metal singles.
The singer and power woman Kate Ryan is a personality with style and a soft spot for fashion. With her outstanding voice and her seductive smile, she plays herself into the hearts of her audience.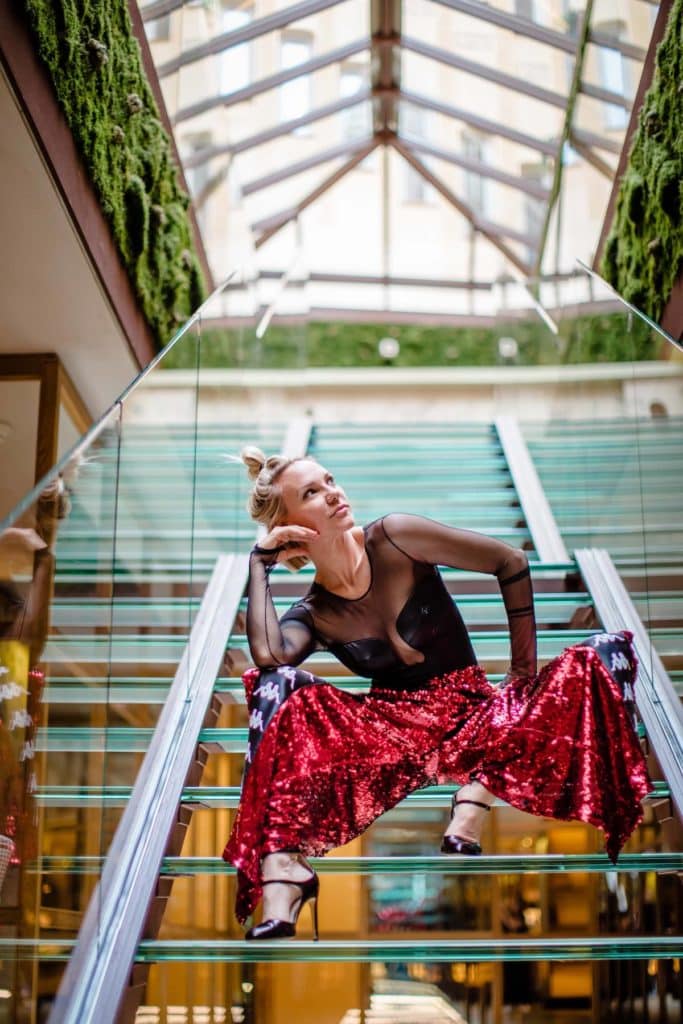 Kate Ryan's great 70's , 80's 90's Repertoire
Her large repertoire of her own versions of the hits of the 70s, 80s, 90s, 00s, which Kate regularly places in the charts, provide great variety in her performances. Kate Ryan manages to make her mark on the great hits of the decades and to bring the party classics of the 80s back into the charts in a contemporary sound.
Acoustic or electronic
Whether as an emotional acoustic version with piano accompaniment or as a remix of Star DJ's. Kate Ryan convinces at stylish corporate events as well as at concerts and parties.
Kate Ryan is an icon LGBTQ movement
As an icon of the LGBTQ movement, she is often a star guest at the biggest Pride events in Europe.
Video Studio 54 Show with Kate Ryan:
Mehr Informationen und Videos unter:
https://www.stefanlohmann.com/kate-ryan-booking-and-artist-information/
---
80er Hits mit Kate Ryan Booking Kontakt:
Stefan Lohmann (Künstleragentur, Künstler Booking)
Stefan Lohmann ist ein Hamburger Talent Buyer und Artist Relations Manager. Zu seinem Leistungsportfolio gehören Live Entertainment Konzepte für Konzerte, Festivals und Events. Als Live Entertainment Network vertritt er außerdem marktführende Produktionsfirmen im Entertainment Bereich (Aerial Show, Drohnen Shows, Video Projection Mapping …)
Book 80s artists – the best 80s hits
Booking 90's artists or booking 80s artists … this is one of the specialities of Talent Buyer Stefan Lohmann. Whether Kate Ryan, David Hasselhoff, Dr Alban, East 17, Right Said Fred, Whigfield, Snap!, Rednex, No Mercy, Oli P, Culture Beat, 2 Unlimited, Vengaboys, Captain Jack, Mr President, Crystal Waters, Corona, Fun Factory, Caught in the Act, La Bouche, Ice MC, Nana, Benjamine Boys, Magic Affair, Alex Christensen, Mark Oh, Londonbeat, Sydney Youngblood, …. Book artists of the 80's or Best of 80's Artists as music concept for events with DJ or All 80's Classics with orchestra incl. original artists of the 80s or original 80s artists. Simply the best hits of the 80s – the best bands of the 80s.
With Sustainable Event Solutions he also offers support for climate-neutral, sustainable events and tours.
Kontakt:
Tel: 01711662517
info@stefanlohmann.de
www.stefanlohmann.com
www.sustainable-event-solutions.de
About Stefan Lohmann – Talent Buyer & Booking Agent:
"As Artist Relations Management & Live Entertainment Network, we offer a transparent and efficient solution to channel and professionalize live entertainment handling while reducing costs and increasing artist selection."
"We place international Stars, Shows, Orchestra, Celebrity Speakers, Hosts, Performer … and create Live Entertainment Concepts with WOW-factor."